Howdy,
Question that I'm sure alot of folks have dealt with. I live here in Florida, where it gets crazy hot in the summertime. I recently moved here from San Diego, before that was living on the coast in Oregon. I've always had to work a Monday - Friday/ 9-5 type of job and have always kept a surfboard in my car for early morning pre-work sessions and lucky sneak-out-of-work-early-if-it's-good surfs before heading home. Usually kept a PU board in my car, in a travel bag, parked in the shade. The issue is that it never got that hot in San Diego or Astoria.
The heat here in Florida though??? That's a whole 'nother issue entirely. It gets ridiculous hot in my car, even when parked in the shade. It must be the humidity or something. Anyway, i live in St. Augustine Beach but work in Jacksonville, where it's even a bit hotter than on the beach. I'd like to keep a board in my car again, for a pre/post work surf, but worry that this kind of heat requires a bit more prep.
I've talked to lots of folks at various surf shops about this, and the consensus was either a beather PU board, or a Tuflite in my car, in a travel bag (reflective side up), parked in the shade as much as possible.
I've also thought about picking up this solar shade too: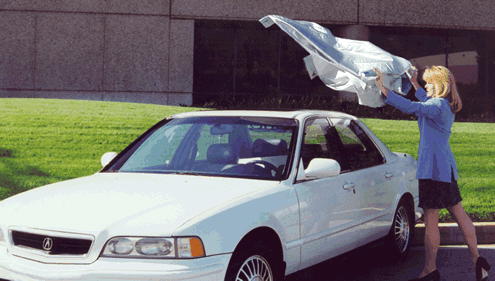 What do folks think is the best kind of board that would survive in this heat? -Poly? TL1? TL2? Tuflite?
Thanks folks,
Steve-O
FYI with an update. For the last two weeks I've been keeping a firewire Quad 5 and a Channel Islands Double Helix Flyer in my car, each one in a travel bag, parked in the shade, with a foldable window reflector in the windshield. My windows are tinted to the legal limit. There were a few days I couldn't move my car in time and it spent a few hours in direct sun. After my morning surfs I've been very careful to dry off the board before I stick it in the travel bag, worrying about the steam creating extra heat. Both boards were mint with no dings or cracks, cause I was worried if I put a dinged board in my car it'd delam around that spot.
Long story short, the Double Helix Flyer, which usually sat on top of the stack pretty much split along the rail for about 8 inches up by the nose. It looked like it's split along a seam or something. I'd only been surfing south of the St Auggie peir all week, nothing crazy shallow, so I don't think it was from surfing. I think that the helix, since it didn't have a vent like the firewire, blew up like a balloon and split along a weak spot. Needless to say pretty bummed. I really loved that Flyer, totally my daily driver.