I got my board from a friend of mine about 6 months ago. I was buying a vw bug from him that had been sitting in his back yard for about a year. It was a 69'. I was soon to cut it up into a baja bug. Thats my other hobby. Cars. An expensive hobby.
So a few weeks ago i was shopping around costco and noticed the soft top longboards they had for sale. $99. Not to bad i though. It reminded me that i have a "real" board sitting in my basement just waiting to see the sun and ocean again.
When i got home from costco i took out the old board. It looked more beat up then when i put it down in the basement 6 months ago. I took it up to the garage and laid it out. I grabbed some 220 grit paper and sanded over a few spots that had been covered with what looked like automotive bondo. "Who the fleshin' would use bondo on a board?" then i remembered that Pete had the board for a while. duh!!!
I dont really remember how it started but i can now remember that i found my self digging away at the fiberglass for hours that day. I had resin and fiberglass laying around the garage because i have a baja bug, and who has a baja bug with out fiberglass on it.
So i already knew how to do
some
glass work. I sanded through the original glass down to the foam, mixed up some resin and took some of the glass mat i had (i later realized that i shouldnt be using glass mat and instead i should be using woven fiberglass cloth) and dumped a healthy glob into the hole. I took a lil wad of glass mat and shoved it into the hole (to act like a filler. Now i use Q-cel). Then i covered the hole with a round piece of the mat and squegeed it into place. My obsession had begun. Both with this crappy board and the lifestyle of surfing.
The board measures 6'9"x21"x2.5"ish. Im 23 years old, 6 foot even, weigh 210lbs and have only a memory of surfing in Malibu at around the age of 12 or 13. I dont even really remember that board, but it wasnt a short board. Or at least not for my size at that time. I had a day or two out on the water with it because i was staying at my fathers cousins house that was right on the beach. Thats a nice place, Malibu. Flocks of wild parots nesting in the trees in the front yard. It was pretty cool. My father had come to take care of the house and pets for a few days since we where already down there on vacation. My cousin once removed (or my great cousin? idk) said "Go ahead and use the surfboard if you want". I remember that thing looked.....be ee ay you tee-ful sitting in the garage on a rack. I was in heaven. I had always wanted to try surfing. I had boggei boarded. Body surfed. Rode a few kayaks and had plenty of time in a canoe. But never a surfboard. This was going to be great.
And it was.
Never got to standing up. But i did get tossed around by the ocean and got my head and body slammed into the ground quite a few times, giggling the who time it was happening.
So now here i am about 10 years later. I have been working the last 8 years pretty steadly at a local grocerie store. I got my drivers license and soon as i turned 16. I had always wanted to surf as a kid but didnt have the money or the transportation to the beach. And once i got both of those, i forgot about surfing because i had an obsession with my cars. But now, 10 years later, i remember my dream. I was gonna do this. I have the money now, and I have a bitchin beach crusier to go feel up the curves of highway 1. Sweet!!! It is on.
So back to the board.
I started doing the research on how to properly repair the board. I should of done it in the first place before i laid that glass mat, but then i probably would of lost interest. I bought a book,
The Ding Repair Scriptures
by George Colendich. Its a cool book. I read the whole thing and went back to the board. I ended up buying an electric sander. I had wanted one for buffing my cars paint, but figured that spending $50+ wasnt worth getting an extra shine out of it. Then i started working on the board and realized i now would have two uses for a sander. Plus it was taking too long.
So i filled some holes (with the proper material. Q-cel), I laid some glass (the proper
cloth
type) and have done some sanding around the edges of the patch to smooth it out some. Now im at the stage where im wondering what to do next. I was told by a local surf shop, The Bodega Surf Shack, that i might want to just throw another layer of glass over it because it has so many holes and its so fleshin' up and its probably weak from all that. So i think that might be my next move. But i also want to lay some paint out. I dont plan on painting the whole bottom or top. Just the words in red "DONT EAT ME". I got the idea from, well my self. My neighbor JJ came over one day to see what i was working on. He asked "What color are you going to paint it?" I sarcastically say " No color, just 'dont eat me' on the bottom of it". He laughs, and i make a real descision on what to pain on it.
Some pics:
Bottom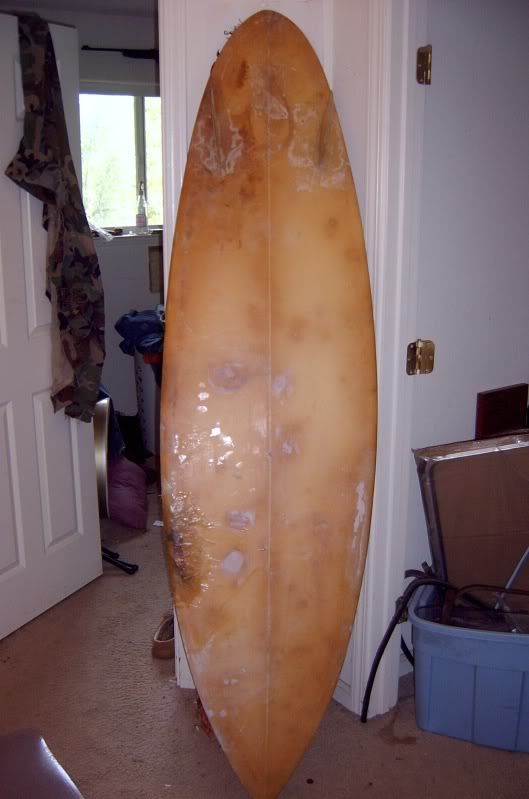 Top
Two of the very first repair i did on it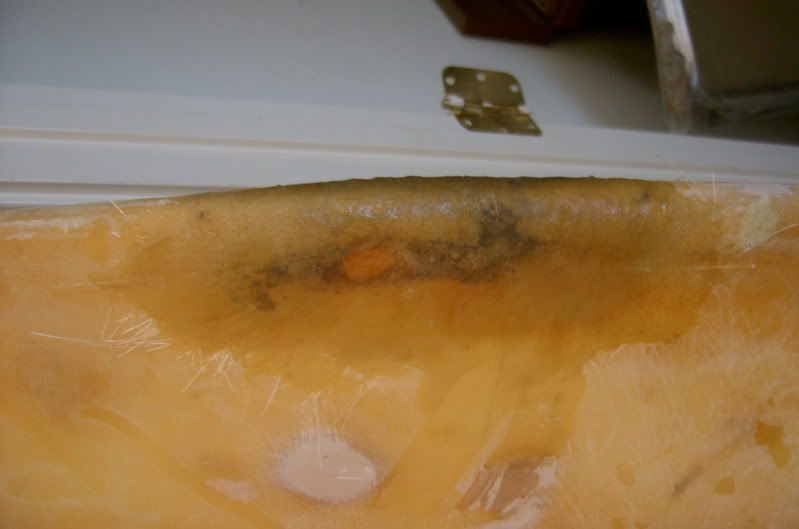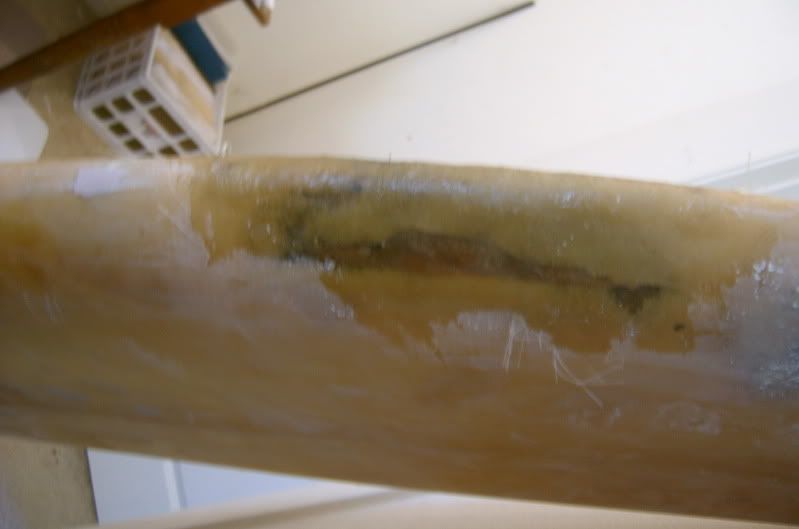 Some bondo Pete must of put on it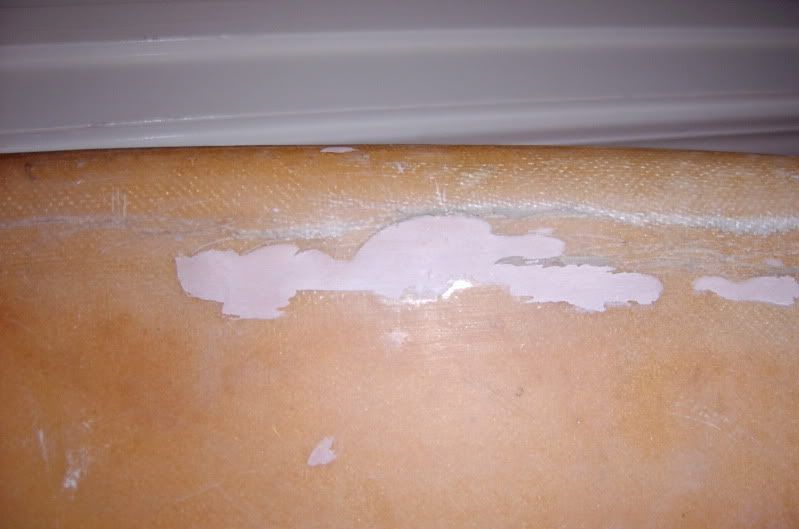 More Bondo
The fins bradduh, the fins
And the tail with a hole in it
Thanks for looking. If you want to leave some suggestions, go for it. Im sorry i wrote my whole life story out. It just kind of came out of me. I was waiting for some Q-cel mix to set up and all of a sudden.... its been an hour and a half.
is what you have heard out of me. So tell me what you think and throw me some suggestions. Thanks.
Ohh yeah. More pics to come.